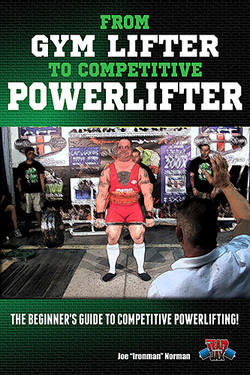 From Gym Lifter to Competitive Powerlifter
The Beginner's Guide To Competitive Powerlifting

Do you like to squat? Do you like to bench?
Do you like to deadlift?
If you find yourself answering yes to any of these questions then there is one more question to ask.
Have you ever thought about competing?
Most people that love weightlifting do not realize that there is a sport dedicated to the main three power exercises, the squat, bench press and deadlift. IF you are one of those lifters that want to compete but do not know enough about the sport to get started, "From Gym Lifter to Competitive Powerlifter" is the book for you.
In 1998 at age of 30, the author, Joe "Ironman" Norman, started his powerlifting career by joining up with Team Jax out of Jacksonville, FL., a computer programmer during the day, Joe dedicated his nights and weekends to become one of the top ranked powerlifters in the sport today. He has taken what has learned over the years about competing and shared hat knowledge in this book.
You will find the knowledge you need start on your powerlifting career. This book covers topics from lifting federations to competition day. It will explain the sport in detail, as well as offer tips and tricks that Joe has learned over the course of his powerlifting career.
Topics such as
Lifting organizations (Federations)
Types of competition
Divisions/weight classes
How a Meet is run and the people involved in running it
Flow of competition
What is expected on each lift
Powerlifting gear
Meet prep
Meet day
When you are ready to take your lifting to the competitive level, then this is the book for you.
Are you ready to get your powerlifting career started?
Kindle:
http://www.amazon.com/dp/B008M0GR66
iPad/iPhone/iPod:
https://itunes.apple.com/us/book/from-gym-lifter-to-competitive/id656468413
Below is the table of contents:
Table of Contents
IntroductionChapter 1: What is Powerlifting?
Brief Description
Federations
Gear or Not
Tested or Not
Fees
Types of Competition
Divisions/Weight Classes
Lifter's Total & Qualifying Rankings (Classifications)
Lifter's Total
Qualifying Rankings (Classifications)
Awards & Best Lifter
Summary
Chapter 2: The Meet Layout & the People Involved
Layout
Vendor Tables
Scorer's Table
Platform
Light Board
Warm-up Area
Spectator Area
People
Meet Coordinator/Host
Judges/Referee
Scorer
Expeditor or Marshal
Announcer
Spotter & Loaders
Summary
Chapter 3: Performing the Lifts
Squat
Things to know
Disqualifications
Bench
Things to know
Disqualifications
Deadlift
Things to know
Disqualifications
Summary
Chapter 4: Order of Competition
Weigh-ins
Rules Briefing
Flights
Progressive Rounds
Lifting Order
Attempts
Loading Errors
Record Breaking
Flow of Competition
Flow of a round
Summary
Chapter 5: What Type of Lifter Do You Want To Be?
Raw
Gear
Squat/Deadlift Suit
Briefs
Bench Shirt
Tee Shirt
Erector Shirt
Knee Wraps
Knee Sleeves
Elbow Sleeves
Wrist Wraps
Wrestling Singlet
Belt
Socks
Footwear
What is Allowed on Each Lift
Squat
Bench
Deadlift
Inspections
Tested or Non-Tested
Summary
Chapter 6: Meet Prep & Meet Day
Meet Prep
5 Week Out Training Program
Packing Your Bag
Weigh-Ins
Food
Meet Day
Get Up and Eat Breakfast
Find a Spot
Inspect the Equipment
Check the Squat Flights
Rules Briefing
Squat warm-ups
Waiting to Squat
During Your Squat Flight
Lunch
Bench warm-ups
Waiting to Bench
During Your Bench Flight
Deadlift warm-ups
Waiting to Deadlift
During Your Deadlift Flight
Awards
Summary
Final Comments
---